Temperatures and spirits high as the Rio Olympic Games begin
Comments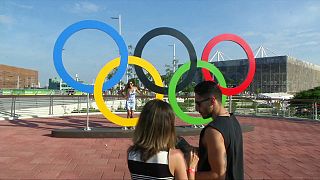 Both temperatures and spirits soared in Rio on the first day of the 31st summer Olympics.
Despite initial worries over Brazil's capacity to host the Games amid political, economic and social turmoil in the nation, fans from far and wide seemed pleased with the end product as they descended on the Olympic park.
Robert, a fan from Munich, was enthusiastic about the set up.
"I'm at an Olympic Games for the first time," he said. "I've always dreamed about being here and now it's a dream come true. So far everything has been organised very well, the buses are running, the trains are running, the security checks aren't too long, it's pretty hot but otherwise everything is great."
New Yorker Stephen Arlington agreed:
"From our perspective, no problems, the food lines have been reasonable, the security was all great, and so far it's been fun."
Up to half a million foreign visitors have descended on Rio for the Games. To facilitate travel to and from the Olympic complex, a new metro line was put into action a week before the tournament.
Only tickets holders are allowed on board for the moment and once they reach the end of the line, travellers must take a shuttle bus to reach the Olympic park. But that didn't put off American fan, Jasper Bernbaum.
"(It was) Really easy for us. Our hotel is like two blocks from a metro stop and we are with a great group, who told us how to get around so it has been pretty easy so far. Lots of crowds but that is to be expected," he said.
The transport system has come under fire from other users, though, with reports of the shuttle bus getting lost between the metro station and the stadium and ticket machines struggling with foreign credit cards.