Russia banned from competing at 2016 Rio Paralympic Games
Comments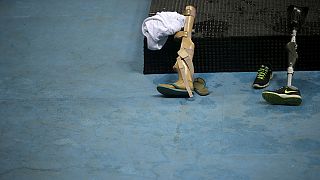 Russia will not compete at the 2016 Rio Paralympics this summer after the International Paralympic Committee (IPC) on Sunday imposed a blanket ban on the country.
The decision, announced by IPC president Phillip Craven, comes after the publication of the damming McLaren report that last month implicated dozens of Russian para-athletes in widespread, state-directed doping.
"The IPC governing board has suspended the Russian Paralympic Committee with immediate effect," Craven said at a press conference in Rio de Janeiro. "The anti-doping system in Russia is broken, corrupted and completely compromised."
"I believe the Russian government has catastrophically failed its Para athletes. Their medals over morals mentality disgusts me," he added.
Shortly after the ruling, TASS news agency reported the country's sports minister Vitaly Mutko had said the country would be appealing the suspension to the Court of Arbitration for Sport.
While the IOC left the decision to ban Russia from the Olympics to individual sports federations, a move which drew heavy criticism from anti-doping agencies, the IPC appeared to be unfazed when it came to suspending the country from its own Games which run Sept. 7-18.
Craven said he had "deep sympathy" for the competitors who will miss the Paralympics, but still maintained the decision was taken in the best interests of the Paralympic movement.
Although para-sport is not widely followed in Russia, in part due to what campaigners say is a result of regressive social attitudes to disability, the country is one of the most successful nations in the world.
Russia topped the medal table at the 2014 Sochi Paralympics and finished second behind China at the 2012 London Games. They had also planned to send 267 athletes to Rio.
Their exclusion from the 2016 edition of the Paralympics is yet another blow to the image of Russia as a sports powerhouse after many athletes were banned from competing at this summer's Olympics for doping offences.