Flash flooding in FYROM capital leaves more than 20 people dead
Comments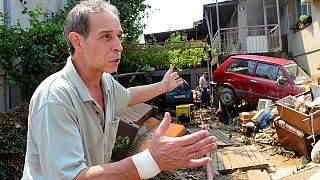 More than 20 people have been killed in flash flooding in Former Yugoslav Republic of Macedonia.
Some of the victims drowned in their cars as parts of the city's main ring road were swept away. The moving water dragged cars into fields nearby. Many people are still missing.
A month's worth of rain fell in the capital Skopje during just one storm. More than 9cm of rain was recorded, more than the average for the whole of August.
In some areas water levels reached one and a half metres.
Homes collapsed under the force of the torrential rain and many are still flooded and without electricity.
Local residents said they hadn't seen flooding like this in decades.
"We don`t have engine pumps to pull out water. We have no water, no electricity. Something like this we haven`t seen in the last 20-30 years," said one man.
Another woman cried as she described how her home was destroyed: "I have nothing now. Everything I had has been flooded. Everything I have been building for 60 years has been destroyed."
Authorities have declared a crisis situation for the next 15 days.