Hummels and Sanches unveiled at Bayern Munich
Comments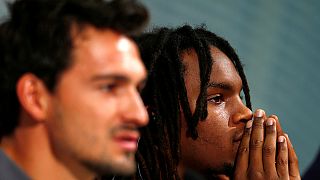 Mats Hummels and Renato Sanches were unveiled at their new club Bayern Munich on Saturday.
Sanches, one of Portugal's Euro 2016 winners, joined the defending Bundesliga champions from Benfica while Hummels made the move from league rivals Borussia Dortmund.
Defender Hummels said his transfer represented a step up in his career.
He said: "At the end of the day, Bayern is one of the two or three best teams in the world. And if you look at it from the sporty side, that is a (big) step, that was the deciding factor for me. To know that there is a chance to become an important part of one of the most important teams in the world, which has each season the chance to win everything."
The unveiling took place on Bayern's annual pre-season open day, where along with the rest of the team Hummels and Sanches were put through their paces by new coach Carlo Ancelotti, who replaced Pep Guardiola at the helm in the summer.
Hummels' first game with his new club will be on August 14 and against his old club Dortmund in the German Super Cup.