Plane crash lands at Italian airport
Comments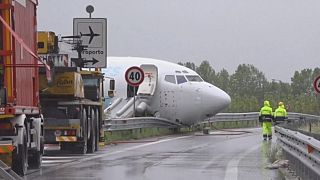 A cargo plane has overshot the runway at a northern Italian airport overnight, skidding nose first onto a nearby motorway.
At 4am local time, the DHL Boeing 737-400 managed to misjudge its landing at Bergamo's Orio al Serio airport, overshooting the runway by close to 300 metres, and coming to rest lying across one provincial highway, with its nose jutting out onto another.
A cargo Boeing 737-400 from Paris (CDG) suffered a runway excursion at Bergame-Orio al Serio (Italy) on landing. pic.twitter.com/Odzjg1Aje6

— ✈Flight Simviator✈ (@FlightSimviator) August 5, 2016
The two-person crew managed to escape unharmed, and no one was hurt on the ground, although some cars were destroyed and the plane was left severely damaged.
Fresh criticism
The crash brings into speculation the proximity of the low-cost airline and cargo hub's runway to the nearby road, which has been criticised in the past.
The airport reopened by 07.00 although some planes had to be diverted to Milan's Malpensa airport, and flights due to take off have suffered severe delays during the summer rush.
Around 2,500 were left in travel limbo as the main route to the airport remained closed.