No casualties reported following explosion outside Kosovo parliament
Comments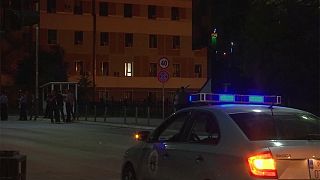 Kosovo's parliament building has been the target of an explosive attack, local police say. There are no known casualties.
Unconfirmed media reports suggest two motorcyclists fired a rocket-propelled grenade towards the building as they drove past.
In recent months, tensions have risen among the nation's politicians. Opposition MPs have released tear gas inside the parliament on a number of occasions in the past ten months. They say they are protesting against an EU-brokered accord with Serbia, which offers a greater level of autonomy to Serb-dominated municipalities in Kosovo. Within the same period, opposition supporters also clashed with the police several times.
Located next to government offices, the parliament is situated on a busy street in the centre of Pristina. It was quickly sealed off following the blast, according to a witness speaking to Reuters news agency.