Meet the pair pedalling underwater from England to France
Comments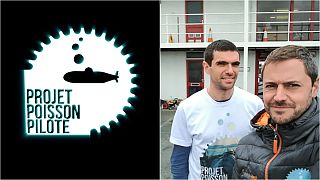 It's the madcap challenge with a strikingly sane goal – pedalling underwater from England to France to learn more about the marine environment.
Antoine Delafargue, 34, and Michael de Lagarde, 35, both engineers, were set to leave Plymouth, a city in south-west England, today (Friday, August 5).
The duo, who have both served in the French navy, will take it in turns to pedal their mini-submarine to Saint Malo, 250 kilometres away. Each day they will burn the same calories as that of a marathon runner.
The vessel, the smallest independent vehicle built for use at sea and the first to be human-propelled, is expected to take around a week to reach France.
They say their project, which has gone from a childhood dream to reality, aims to provide evidence of how well the English Channel is bearing up
Introducing their challenge, the duo wrote: "The English Channel is so close to where we live, but how well do we know it?
Derniers réglages pour le pjpoissonpilote</a> . départ ajdhui traversée de la Manche dans ce sous-marin ... à pédales! <a href="https://t.co/v1rURqn11S">pic.twitter.com/v1rURqn11S</a></p>&mdash; Matthieu Poissonnet (Matt_Poiss) August 5, 2016
"Today, one question recurs in endless debates on fishing quotas, harmful green algae and marine-based renewable energies: how is the English Channel coping and what will it look like in 50 years' time?.
"Our ambition is to bring to the public a representative vision of the depths of the English Channel, to help our research partners refine maps of the sea's habitats and ecosystems."
For more information visit www.projetpoissonpilote.com/en/
Watch the mini-submarine prepare for the launch