Drama in Rio as fans faced marathon queues to pick up pre-bought tickets
Comments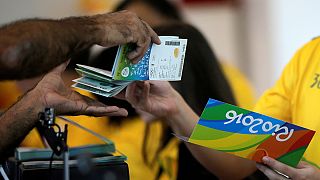 The opening day of the Rio Olympics was supposed to be a time of celebration, glory and drama.
Hundreds of sports fans were able to tick the latter off the list as they faced a marathon queue to pick up pre-ordered, pre-paid tickets.
Many said they stood waiting for hours, describing chaos and missed events.
"We've been waiting here for close on three and a half hours. And there was just no order at all. It wasn't like there was a queue that moved; it was complete chaos. And finally, because we have tickets for the football right now, we were able to be given some sort of priority, but even then it was complete shambles," said Jonathan Lord, a ticket-holder who travelled to Rio from the UK.
His friend, Mike Timmony, came in from Australia.
"I've now waited three hours, no sign of my tickets. I then demand to see the CEO. He comes down. And after a complete rant, after five hours of waiting, I get my tickets having now missed the first match and my first ticket of the whole thing," he said.
The pair placed the blame squarely at the door of the world's biggest reseller of Olympics tickets, US-based CoSport. It does not offer electronic tickets and obliged many fans to turn up to local ticket collection points to pick up their passes in person.
CoSport is the authorised Olympic Games reseller for those living in the US, the UK, Australia and a number of other countries.
The company's distribution centre at the 2012 London Games also came under fire for queues which sometimes lasted up to six hours.
Around 1.2 million tickets remained unsold after the first day of events, lagging behind sales for the Games in both London and Beijing.