Wildfire claims life in Canary Islands
Comments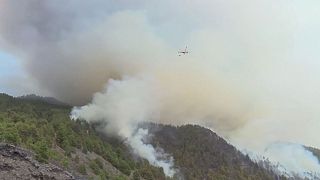 Over 700 people have been evacuated to safety from the path of a wildfire that has claimed one life on the Spanish island of La Palma.
The blaze, which began on Wednesday and has been fanned by high winds, has claimed the life of a park ranger, Francisco Jose Santana, a married father of five, who died while fighting the flames.
Still bad news from fire on #LaPalma it intensified around Montaña El Gallo, helicopters working without stops. pic.twitter.com/ng1f1ZK2IQ

— Roger P. Frey (@efadi_LP) August 4, 2016
Spanish police say that they have arrested a 27-year-old German man in connection to the wildfire.
According to a source from the investigation, he has admitted to accidentally starting the blaze.
This is not the first fire to have rocked the island.
In 2009, close to 4,000 people were evacuated when the last major fire engulfed large swathes of La Palma.