Removing Rousseff - Dilma comes a step closer to impeachment
Comments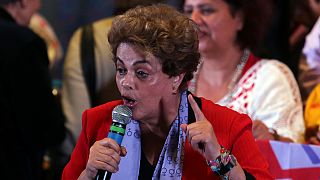 Senate committee votes for impeachment
Full vote next Tuesday
Verdict could come by end of month
In Brazil, a senate impeachment committee has voted to put suspended President Dilma Rousseff on trial in the full chamber for breaking budget laws.
The 21-member committee voted 14-5 to try Rousseff for allegedly doctoring government accounts to allow more public spending in the run-up to her 2014 re-election.
Brazil Senate committee votes to put Rousseff on trial https://t.co/QjqOKvTUWSpic.twitter.com/HvdeZDcSxd

—

FRANCE

24 (@FRANCE24) August 4, 2016
Brazil Senate impeachment committee votes to put suspended president Dilma Rousseff on trial https://t.co/BgIbYbnHET

— RTÉ News (@rtenews) August 4, 2016
Timeline
May 12 – Rousseff suspended
Next Tuesday – the senate votes on whether to accept the charges
If the vote is yes, a trial will get underway
The verdict could come at the end of this month

Has Rousseff responded to the claims?
Yes.
She has denied she broke budget laws.
Her defence, presented to the Senate impeachment trial on Wednesday, has made it clear she is sticking to the strategy of refuting the process as a "soft coup" by those on the political right.
The suggestion is that it is being led by her one-time Vice President Michel Temer.
Brazil impeachment must be settled by Aug 26: Temer https://t.co/mlkUoG51olpic.twitter.com/SFQ1CXGE6F

—

FRANCE

24 (@FRANCE24) July 29, 2016
Temer is the conservative politician who has taken over since mid-May when Rousseff was suspended.
Are there any indications of how the vote might play out?
Some.
Surveys by Brazilian media indicate that more than two-thirds of the senators favour removing Rousseff.
This would put Temer in her place until 2018, the remainder of the term.
What would it mean if she were impeached?
Rousseff's removal would mark and end to 13 years of leftist Worker's Party rule over Latin America's largest economy.
The era began in 2003 under Rousseff's mentor, former President Luiz Inacio Lula da Silva.
Interim President Michel Temer says Rio is ready for the Olympic gameshttps://t.co/z3JwrHq82d

— Wall Street Journal (@WSJ) July 31, 2016
This has been Brazil's worst political crisis in decades, coming to a head as the country prepares to host the Olympic Games in the midst of a severe recession.
What they are saying
"Do I think it has been a fair trial, based n all relevant evidence? In summary, no. Unfortunately, what dominated were affirmations which were not based on fact, everything is in place for her to leave, that is not what was predicted, but unfortunately that was the majority," – Jose Eduardo Cardozo, Rousseff's lawyer and former attorney general.
"We know there are those that defend, and defend legitimately, Rousseff's mandate, and some use inadequate words, but this is part of the political process. I have received criticisms of the content that was presented and this will be debated next week in a serene atmosphere appropriate for this process which is both political and legal," – Antonio Anastasia, leader of the committee.