Fight to combat Zika stepped up in Florida as new cases reported
Comments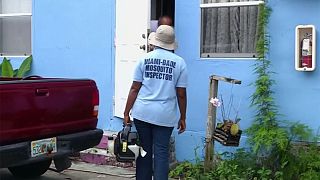 Authorities in Florida were increasing their efforts to combat the Zika virus on Wednesday after another local case was reported in Miami, bringing the total to fifteen.
Teams went from from door to door to spray insecticide and ariel spraying is also planned for Thursday.
As well as the local cases, there have been almost 400 reported in Florida where the disease had been picked up abroad.
In addition, the Pentagon says around 40 US military personnel, including a pregnant woman, have contracted the virus while serving abroad.
Funds to fight the Zika are due to run out in the next few weeks because of inaction in Congress.
Republican senator Marco Rubio called for more the be done: "The time for this political gamesmanship has to end. It's over. We need to fund this as quickly as possible and I hope both parties will put this aside. I hope my colleagues around the country don't continue to believe that this is not their issue, that this is something that is happening far away – because just as this is happening in Miami-Dade County over this week, I believe it won't be long before other jurisdictions, other states and other communities in this state and in this country will face the same situation."
Government researchers announced on Wednesday they had begun their first clinical trial of a Zika vaccine. Other companies and academic groups are also racing to develop a vaccine, but it is not expected to be ready  for at least a couple of years.