Trump says Gulf states will pay for Syrian war
Comments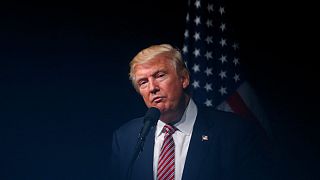 Speaking at a rally in Virginia US Republican presidential candidate Donald Trump has laid out some more controversial foreign policy stances.
The US will push for air and ground safe zones in Syria he said, but it won't pay for them, instead the rich Gulf states would. The safe zone policy is controversial because it can be construed as an attack on Syria since it would require war planes to enforce it.
"We want to do safe zones in Syria. I will get the Gulf states, who are not doing much, believe me. The Gulf states have nothing but money. I'm going to get them to pay. We owe 19 trillion, we're not paying for it. Don't forget, without us, the Gulf states won't exist," he said.
In December Trump said Muslims would be banned from entering the US, upsetting Muslims across the world, including in the Gulf.
Trump also predicted that other EU states would follow the UK's exit from the bloc because they had let too many migrants in.
"Other countries in the European Union are going to follow. Because they were forced to take people and now it's getting to be catastrophic. What went wrong? Angela, what happened? What happened, Angela?"
Trump was referring to German Chancellor Angela Merkel, but mispronounced her first name.
Afterwards Trump was given a replica Purple Heart medal by a supporter who fought in the Iraq war.
Trump's stance on the Iraq war has been equivocal. At times he has indicated support for it but he has also said it cost too much money.
Recent reports in the US media have suggested that Trump, like many senior leaders, such as Bill Clinton and George W Bush, dodged the draft in Vietnam.
On Tuesday President Barack Obama said Trump's attacks on the family of a Muslim US Army captain killed in Iraq and his lack of understanding of critical issues means he is "woefully unfit" to serve as president.