Obama: Trump 'woefully unfit' to be President
Comments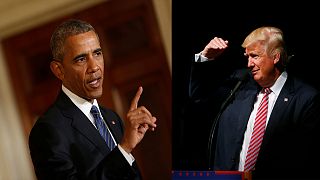 President Barack Obama has once again spoken out against Republican presidential candidate Donald Trump, saying that he is "woefully unprepared" to serve as leader.
Speaking in Singapore when he was meeting with Prime Minister Lee Hsien Loong, Obama said that he believed Trump's attacks on the family of a Muslim US Army captain killed in Iraq, as well as his perceived lack of understanding with regards to key issues makes him "unfit" to be president.
"The notion that he would attack a gold star family that made such extraordinary sacrifices on behalf of our country. The fact that he doesn't appear to have basic knowledge around critical issues in Europe, the Middle East, in Asia means that he's woefully unprepared to do this job," Obama said.
He made a point to note that many leading Republicans have denounced Trump's statements, although he asked why they continue to endorse him.
'Khantroversy'
Donald Trump's comments about the family of a high ranking Muslim US soldier have attracted much criticism.
Khizr and Ghazala Khan denounced Donald Trump at the Democratic National Convention, where Hillary Clinton was made an official presidential candidate.
After Mr Khan spoke out against Trump, the Republican candidate said that the father of US Army Captain Humayun Khan hadn't allowed his wife to speak.
This story is not about Mr. Khan, who is all over the place doing interviews, but rather RADICALISLAMICTERRORISM and the U.S. Get smart!

— Donald J. Trump (@realDonaldTrump) August 1, 2016
Lack of military service
At a rally in Virginia, Trump was given a purple heart war medal – given to American soldiers wounded in action – by a supporter, although it emerged on Monday that the Republican candidate had managed to avoid being drafted into the US Army during the Vietnam War.
In an article published by the New York Times it was revealed that Trump managed to circumvent the Vietnam War draft lottery – the system by which citizens were called to serve in the armed forces – five times.
While the Republican nominee has said that he was incredibly lucky to avoid the draft, the article says that "his Selective Service records suggest otherwise".
He received four student deferments while studying real estate business at Pennsylvania University's, Wharton School – an Ivy League institution – and after graduating received a doctor's letter exempting him from service due to a bone spur in his heel.