'Too little understanding' from Europe after Turkey coup
Comments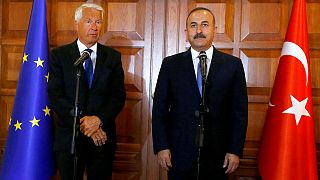 The Secretary General of the Council of Europe Thorbjorn Jagland has said that there is "too little understanding" of the challenges faced by Turkey after last month's coup attempt.
The head of Europe's top human rights organisation – who is the continent's most senior official to visit Turkey since the putsch attempt on July 15 – spoke alongside Turkish Foreign Minister Mevlut Cavusoglu in Ankara.
He said: "The coup attempt was outrageous in all meanings of the word. They were willing to not only to fire on the people in the street but also they knew the consequences that so many people were killed. They were shelling at the parliament, the democratic institution of this country. So this coup attempt must be condemned in the strongest way."
Jagland added: "I would like to say that there has been too little understanding from Europe on what challenges this has cost to the democratic institutions and the state institutions of Turkey. We have been informed about it for a very long time."
He went on to say that while there is a need for "cleaning up" in the aftermath of the attempted coup d'etat, any retribution must be done "in conformity with the rule of law and the standards in the European Convention on Human Rights".
Over 10,000 people have been arrested in connection to the coup plot, and the Turkish government is currently in the process of tightening government control of the military, following the putsch attempt that left hundreds dead and many more injured.
The Council of Europe – often confused with the European Council, an EU institution – is an international organisation comprised of 47 countries.
It focuses on promoting democracy, human rights and economic development.