Firefighter dies while battling blaze after Emirates airline crash-lands in Dubai
Comments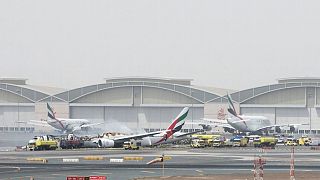 A firefighter has died while fighting a blaze after an Emirates Airlines plane burst into flames after it crash-landed at Dubai International Airport.
The airline's CEO said 14 other people were hospitalised after Wednesday's (August 3) incident. It was not immediately clear if the injured were passengers, crew or rescue workers.
A man waiting for relatives on the flight said he had spoken to them by phone. "They said they're safe and alright, but that they felt a great panic as the plane was on fire."
Another man said his family had also told him they were OK and there had been a problem with the landing gear.
Footage has emerged purporting to show passengers collecting their hand luggage from overhead lockers before evacuating the plane.
Evacuation video of #Emirates#EK521 from crash landing #Dubai#Airport this afternoon. Brave #CabinCrewpic.twitter.com/kEZuFh2aa6

— Rehan Quereshi (@rehanquereshi) August 3, 2016
'Terrifying'
"It was actually really terrifying. As we were landing there was smoke coming out in the cabin," passenger Sharon Maryam Sharji said. "People were screaming and we had a very hard landing. We left by going down the emergency slides and as we were leaving on the runway we could see the whole plane catch fire; it was horrifying."
CEO statement
"Our first priority is the care and wellbeing of our passengers and our crew, and to answer queries from their families and friends," Chairman and Chief Executive of Emirates Airlines, Sheikh Ahmed Bin Saeed Al Maktoum, said in a statement. "We have activated our humanitarian response teams to provide support, care and compassion to those affected.
"We have extended our full co-operation to the authorities and emergency services managing the situation."
Full statement
---
Safety experts said it was too early to pinpoint any cause for the crash. Investigators will scour the wreckage and interview pilots, controllers and witnesses for clues to any technical malfunctions, human error or weather-related problems.
Judging by footage of the aircraft's intact tail section, where the 'black box' flight recorders are located, vital voice and data recordings should be available for investigators.
Aviation is safe, until something goes wrong. Pilots aren't superhuman, nor that practiced at manual flying. #EK521https://t.co/LgadeJleK5

— Anthony Davis (@theanthonydavis) August 3, 2016
Online weather reports before the crash reported Dubai was relatively windy, with dust blowing and "wind shear" reported on all runways.
Wind shear is a potentially hazardous condition involving sudden and unpredictable changes in wind direction or speed.
Emirates flight 521 had travelled from the southern Indian city of Thiruvananthapuram, also known as Trivandrum.