Emirates Airlines CEO issues statement after plane crash-lands
Comments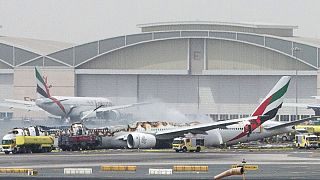 Dubai International Airport has been closed until further notice after an Emirates Airline flight crash landed and burst into flames.
"Our first priority is the care and wellbeing of our passengers and our crew, and to answer queries from their families and friends," Chairman and Chief Executive of Emirates Airlines, Sheikh Ahmed Bin Saeed Al Maktoum, said in a statement. "We have activated our humanitarian response teams to provide support, care and compassion to those affected.
"We have extended our full co-operation to the authorities and emergency services managing the situation."
Full statement
---
Footage of the incident showed a tower of flames at the front of the aircraft with plumes of thick smoke pouring from its upper section.
Emirates EK521 had travelled from the southern Indian city of Thiruvananthapuram.
All 282 passengers and 18 crew members on board the Boeing 777 were safely evacuated.
Flights destined for Dubai were being diverted to the emirate of Sharjah,
So glad to hear everyone is safe! #EK521pic.twitter.com/A5iP8aoFDW

— #AT (@andytelasai) August 3, 2016
The live arrivals page on the Dubai Airports' website showed that no flights had arrived or landed at any of the three terminals since about the time of the incident at 10.45 CET.
According to air traffic control recordings cited by Aviation Herald – a respected independent website specialising in information on air accidents – controllers at Dubai had reminded the crew of the Boeing 777 to lower the landing gear as it came into approach.
Shortly afterwards, the crew announced they were aborting the landing to "go around," a routine procedure for which pilots are well trained, but the aircraft came to rest near the end of the runway instead, Aviation Herald reported.
There was no immediate confirmation on whether the landing gear was extended when the aircraft touched the ground, however aviation journalist Anthony Davis tweeted that flight EK521 "had main landing gear failure on landing causing fire and total hull loss."
#Emirates flight #EK521 had main landing gear failure on landing causing fire and total hull loss. No casualties. pic.twitter.com/HxHC2gcYYo

— Anthony Davis (@theanthonydavis) August 3, 2016
Operator Dubai Airports said all arrivals and departures at Dubai International had been suspended until further notice and an update on the status of operations at the airport would be issued at 15.00 CET.
Planemaker Boeing said in a statement it would be working with Emirates to get more information.