Rotten Rio: Poor air quality and contaminated water await Olympic athletes
Comments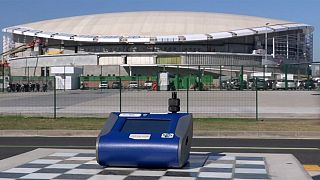 For a city hosting Olympic athletes, Rio de Janeiro's air leaves a lot to be desired.
And a study by the Reuters news agency ranks it "dirtier and deadlier" than authorities have portrayed.
Rio has long surpassed World Health Organisation limits for the most dangerous air pollutant – called particulate matter – spewed from vehicles clogging its roads.
And that is not all, judging by the comments from people on the streets of the Olympic city.
'I can feel the dirt from construction works in the air and on my body, It is really awful," said teacher Lucas Pereira.
As for publicity about improvements to air quality, saleswoman Renata Maciel lamented:
"We hear it again and again and nothing changes."
Thousands of people die each year in Rio's metropolitan area of 12 million people because of complications related to the air. People exposed to the pollution have higher risks of lung cancer, heart attacks, strokes, asthma and other diseases.
Rio's deadly Olympic air: The forgotten, unfulfilled legacy of the Games that kills more than homicides https://t.co/tUCzwcLfCL via Reuters</a></p>&mdash; Brad Brooks (bradleybrooks) 1 août 2016
"It is better than Asian cities and some African cities," said Paulo Saldiva, a pathologist from the University of Sao Paulo and member of the WHO committee that set tougher global pollution standards in 2006.
"But it does not reach the levels of European cities and some cleaner North American cities."
Rio's contaminated Olympic waterways have already caused a stir as the city suffers endemic levels of gastrointestinal diseases from a lack of sewage collection. Add to this the risks of the Zika virus and fears over crime and terrorism…
Let the games begin!