Pregnant women warned against Miami travel as more Zika cases detected
Comments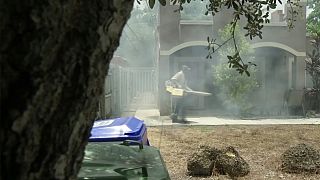 Pregnant women are being warned not to travel to Miami in Florida after another 10 Zika cases were identified.
The U.S. Centers for Disease Control and Prevention said local mosquito control efforts had not worked as well as hoped.
Florida governor, Rick Scott, said officials were working hard to contain the disease, but urged pregnant women in the area to get tested.
"If you're pregnant or thinking about being pregnant, talk to your OBGYN. We are being very active, trying to make sure that we don`t see continuing occurrence of, more cases, in that one-mile radius north of downtown Miami. We`re going to be very active. We`re going to do everything we can".
The current outbreak of Zika was detected in Brazil last year. Since then,  it has since spread rapidly through the Americas.
The disease is linked to defects in newborn babies including small-head syndrome.
Experts in Tropical Medicine are warning that more outbreaks are likely in Florida and other gulf coast stages.