Olympic Truce Wall unveiled in Rio
Comments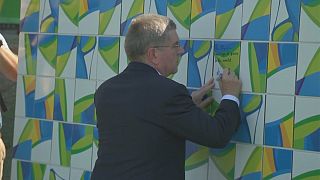 With just a few days before the Olympics start in Brazil the traditional Truce Wall has been unveiled in a ceremony in Rio de Janeiro.
It has been a fixture since the 2000 Sydney Games, but began in ancient Greece when conflicts were halted to allow safe travel to and from the original Olympic Games.
The president of the International Olympic Committee, Thomas Bach, wrote a message of peace on the wall.
A group of child refugees sang at the ceremony – for the first time ever the Olympics will have its own Refugee Team.
Meanwhile the Olympic torch is nearing the end of its journey in Rio, but there is still concerns amongst some athletes that the city's high pollution levels could affect their performance.