Europe will not respond to Turkey 'visa blackmail' says German Vice Chancellor
Comments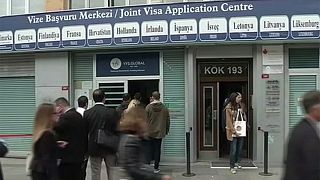 The German Vice Chancellor has accused Turkey of 'visa blackmail' and said Europe would not respond to threats.
It comes after the Turkish Foreign Minister, Mevlut Cavusoglu , said at the weekend that the deal to stem the flow of refugees into Europe would be over unless the EU delivers on its promise of visa free travel.
Sigmar Gabriel said that would only happen when Ankara meets European standards.
"The fact that free visa is only going to be granted when Turkey meets the appropriate European standards is not going to change. And that is not happening at the moment," he declared, adding" It is up to Turkey if there is or there isn't visa liberalisation. Europe should under no circumstances be blackmailed. And we have to consider the fact that a country that is on its way to bring death penalty into force is only distancing itself so drastically from Europe".
Relations between Berlin and Ankara have been strained following the failed coup in Turkey. Germany has expressed concerns at the crackdown following the failed coup attempt in Turkey, something which has angered the Turkish government.