Standard anti-doping system worldwide needed in fight against doping - Russian Sports Minister Mutko
Comments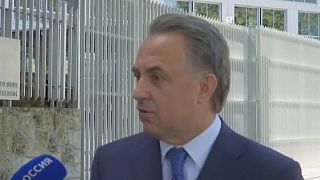 Russian Sports Minister Vitaly Mutko on Monday said an equal standards system applied across all countries is needed in order to win the fight against doping in sport.
More than 100 Russian athletes have so far been banned from competing at the Rio Olympics following revelations of a wide-spread, state sponsored doping programme in the country.
Mutko, who was banned by the International Olympic Committee from attending the Rio Olympics, said: "There should be an equal, integrated system in the world. If we achieve this, then the fight against doping will have some effect. If in one country the system works one particular way, if in our country (Russia) there are some requirements while there are others in different countries, like it is now with the admission of athletes (to the 2016 Rio de Janeiro Olympic Games), then this is the road to nowhere."
After reviewing all rulings made by the international sports federations, a final decision on which Russian athletes can compete in Rio is expected to be announced by the IOC's 3-member 'review panel' on Tuesday.