Armenian gunmen surrender after two week stand-off at police station
Comments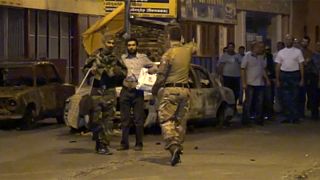 Armed men who seized a police station in the Armenian capital Yerevan have surrendered after a two week stand-off.
Around 30 gunmen seized the building a fortnight ago, demanding the release of opposition leader Jirair Sefilian.
The men originally took nine people hostage but released them within the first week.They then took four doctors hostage, eventually releasing them too.Two police officers were killed during the standoff.
Jirair Sefilian had criticised the president's handling of the Nagorno-Karabakh war with neighbouring Azerbaijan. Some of the armed men were veterans of the conflict.
Sefilian was jailed in June over allegations of illegally possessing weapons. He had been accused by the authorities of plotting civil unrest.