Trump insults killed Muslim soldier's parents
Comments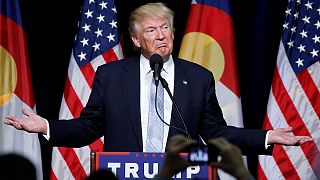 Donald Trump is no stranger to controversy, and this weekend the Republican candidate for President of the United States has outraged many by insulting the mother of a Muslim-American soldier, killed in Iraq.
Ghazala Khan stood in silence as her husband Khizr gave an impassioned speech, heavily criticising Trump, to the Democratic National Convention in Philadelphia.
Their son, Captain Humayun S. M. Khan was killed by a suicide bomb north of Baghdad in 2004, and posthumously awarded both the Bronze Star and the Purple Heart, as recognition for his bravery and leadership.
"The Donald" later spoke on US television, saying "She (Ghazala) had nothing to say… maybe she wasn't allowed to have anything to say".
His words have since been criticised by many from both sides of US political life, including journalist and commentator, Mehdi Hasan.
Trump smears the mother of a dead US soldier not once but twice in this clip. Disqualifying in any other election. https://t.co/on18C4xxxv

— Mehdi Hasan (@mehdirhasan) July 30, 2016
Democratic Vice-Presidential candidate Tim Kaine accused Trump of trying to ridicule Mrs Khan, and said "It just demonstrates again kind of a temperamental unfitness" and lack of empathy.
Republicans have also publicly lambasted their Presidential contender. John Kasich, Governor of Ohio and former rival of Mr Trump for the Presidential nomination, said "There's only one way to talk about Gold Star parents: with honor and respect".
There's only one way to talk about Gold Star parents: with honor and respect. Capt. Khan is a hero. Together, we should pray for his family.

— John Kasich (@JohnKasich) July 31, 2016
Mrs Khan responded by saying that her silence reflected her pain, and that "all of American felt my pain, without a single word. I don't know how he (Trump) missed that".
She added that her silence was down to grief, and that she cannot look at pictures of her son without crying.
Mr Trump's campaign later issued a statement saying "Captain Humayun Khan was a hero to our country and we should honour all who have made the ultimate sacrifice to keep our country safe".
But despite this, Mr Trump maintained his criticism of the pair, saying "Mr Khan, who has never met me, has no right to stand in front of millions of people and claim I have never read the Constitution, (which is false) and say many other inaccurate things".
He added, when asked what sacrifices he had made, that "I've had tremendous success. I think I've done a lot".
I was viciously attacked by Mr. Khan at the Democratic Convention. Am I not allowed to respond? Hillary voted for the Iraq war, not me!

— Donald J. Trump (@realDonaldTrump) July 31, 2016
It is not the first time Mr Trump has taken aim at Muslims. He famously called for a ban on all Muslims entering the United States, and this attack is another with Islamophobic overtones.
In an opinion piece for the Washington Post on Sunday, Mrs Khan said Mr Trump is "ignorant" about Islam.
She added that he "doesn't know what the word sacrifice means".
The exchange prompted the mocking hashtag #TrumpSacrifices to trend on Twitter. Users listed faux-sacrifices the Republican leader could have made, in response to the claim that his sacrifices have been comparable to the Khan's losing their son.
#TrumpSacrifices – the struggles of becoming a man without a 'small $1M loan' from daddy.

— Jeffrey Wright (@jfreewright) July 31, 2016