Tokyo poised to elect first female governor - exit polls
Comments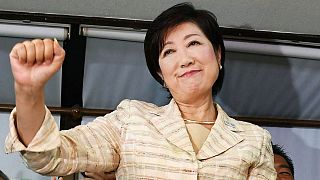 Tokyo appears poised to welcome its first ever female governor.
Exit polls project Japan's former Defence Minister Yuriko Koike has beaten off twenty other candidates vying for the position.
"I am pushing for a Tokyo where people's lives will be better, and everyone can shine, men and women, children and adults, the elderly and the disabled," she told supporters.
The two previous governors resigned amid separate funding scandals.
If the result is confirmed Koike, who ran on an independent platform, will be expected to clean up Tokyo's image as a host city ahead of the 2020 Summer Olympics.
Preparations have so far been plagued by scandals, overspending and construction delays among other problems.