Somalia: at least seven dead in al Shabaab-claimed bomb and gun attack
Comments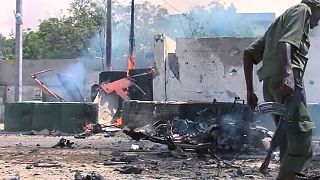 The al Shabaab Islamist group has claimed responsibility for a deadly car bomb and gun attack in Mogadishu.
At least seven people were killed, including two militants, police say.
"We have confirmed seven dead including civilians and two militants," police officer Ali Mohamed told Reuters news agency.
Officials said two explosions were detonated outside the Somali capital's Criminal Investigation Department (CID).
Armed men are then said to have stormed the building.
Al-Shabaab claims fighting continued afterwards. According to an eyewitness, gunfire could be heard for around 30 minutes following the initial blast.
Abdiasis Abu Musab, the group's military operations spokesman, said one of its suicide bombers began the attack by ramming a car bomb into the police base's main gate.
Sunday's (July 31) attack on Mogadishu is the second major assault by the group in the space of a week. It is attempting to impose its harsh brand of Islam on Somalia. On Tuesday (July 26), 13 people died when twin car bombs went off at the gate of the African Union's main peacekeeper's base.
The Islamists are waging war against Somalia's Western-backed government.
A presidential election is scheduled for August, 2016. It is being billed the first democratic vote in the country in 47 years.