Muslims across France attend Sunday Mass in wake of Normandy church attack
Comments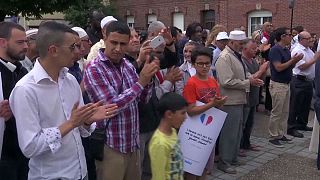 Muslims across France are attending Mass services this Sunday in a further show of solidarity five days after a deadly ISIL-claimed attack on a Catholic church in Normandy.
Father Jacques Hamel, 85, had his throat slit by two men as he gave a morning service in Saint-Etienne-du-Rouvray on Tuesday. Three nuns and two parishioners were taken hostage.
The attackers, named as Adel Kermiche and Abdel Malik Petitjean, 19, were shot dead by police as they left the church.
In the wake of the attack people of all faiths have come together at Catholic services around the country.