ISIL 'soldiers' carried out France church attack, murdering Catholic priest
Comments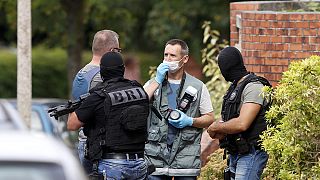 The group calling itself Islamic State (ISIL) says two of its "soldiers" carried out a church attack in the French region of Normandy in which a priest was murdered and worshippers taken hostage. The claim came via ISIL's news agency Amaq.
We must lead this war with all means necessary, respecting the law, which is what makes us a democracy

French President
The assailants, armed with knives, stormed the church in Saint-Etienne-du-Rouvray during morning mass, taking several people hostage and slitting the priest's throat. He has been named as Jacques Hamel, who was in his mid-eighties. Another hostage, one of four who were held, was seriously wounded.
A specialist police unit arrived quickly from the nearby town of Rouen, reportedly after a nun managed to escape and raise the alarm. Officers surrounded the church and shot dead the attackers as they came out of the church. The other hostages were rescued.
François Hollande, who comes from Rouen, was joined at the scene by the local mayor and the country's interior minister Bernard Cazeneuve.
The French president said France should use all its means in its war against the militant group.
"We are facing a challenge, and yet another one, because the threat level is very high and it remains very high after all that we've been through in the past few days, years even," said Hollande. "We are dealing with Daesh (ISIL), which has declared war on us. We must lead this war with all means necessary, respecting the law, which is what makes us a democracy."
Francois Hollande – France must fight war against ISIL 'by all means' #Normandyhttps://t.co/H47Px4qsIN

— jo gill (@JoGillJourno) July 26, 2016
#ISIS 'Amaq reported that "two soldiers of the Islamic State" carried out the attack at a church in #Normandy#France

—

SITE

Intel Group (@siteintelgroup) July 26, 2016
Tuesday's (July 26) attack is the latest in a string of deadly assaults in Europe, including a massacre in the southern French city of Nice on Bastille Day, and five incidents in Germany.
At least one of the attack suspects was known to police and reportedly wore an electronic monitoring tag as part of his bail conditions. French media reports say the electronic tag corresponds to that of a man who was convicted after trying to join extremists in Syria and being sent back to France by Turkey. He was reportedly freed last March.
The prosecutor's office said identifying the two suspects shot dead by police was still underway and it was too early to jump to conclusions about their background.
As anti-terrorist police took charge of the investigation, officers made an arrest near the church where the attack took place.
French media reports say the person taken into custody is a minor known for his links to radical Islamism, whose presence near the scene was seen as suspicious. No link with the assailants was immediately apparent.
Two premises were also searched.
The murder of a defenceless priest in such barbaric circumstances is unprecedented in France.
Reports quoting a nun who was in the church say Jacques Hamel's murderers filmed the scene as they spoke in Arabic.
He has been described as having been devoted to his parish and well-known in the town, and who engaged with everybody.
The mayor of St-Etienne-du-Rouvray, Hubert Wulfranc, said a tribute would be organised in the next few days.
Breaking into tears, he called on everyone to "stand up against barbarism".
Earlier in the day, Interior Ministry spokesman Pierre-Henri Brandet said it was "obviously a tragedy for the Catholic community, for the Christian community… a tragic situation which we have to face up to again, less than 2 weeks after the tragedy in Nice."
The French Prime Minister Manuel Valls said "we will stand together" in the face of "this barbaric attack on a church".
Horreur face à l'attaque barbare d'une église de Seine-Maritime. La France entière et tous les catholiques sont meurtris. Nous ferons bloc.

— Manuel Valls (@manuelvalls) July 26, 2016
The Vatican has condemned the "barbarous killing" of the priest in a French church.
Pope Francis is expected in Poland for World Youth Day, attended by some two million young Catholics.
Juncker: no matter how bad migrant crisis, terrorism gets, we'll never give up on open borders https://t.co/JWZaXzc5kS

— Keith Walker (@KeithWalkerNews) July 26, 2016