London police chief warns of UK terror attack risk
Comments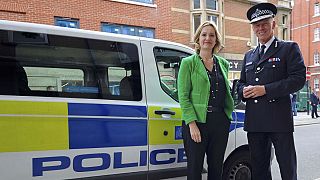 The head of London's Metropolitan Police has warned that it is a question of "if, not when" the UK will be hit by a terror attack.
Sir Bernard Hogan-Howe warned that 600 extra armed officers would not be enough to stop an attack, in a column written in a British newspaper.
Sir Hogan-Howe said the recent attacks in Europe, especially the Bastille Day attack on Nice, along with prevented attacks in the UK, should act as a warning to the UK.
The terror threat level has remained at "severe" since 2014. It is the second highest possible level, and means that an attack is highly likely.
The Met chief said: "I know that with each new outrage, and especially those on our doorstep in Europe, there is a greater sense of fear that Britain will be the next victim in this wave of cruel and mindless mass murder".
He mentioned two attacks that have been prevented since the 2013 murder of soldier Lee Rigby , including another planned attack on soldiers in the East of England, and another that targeted police in West London.
But he praised the "British way of life and culture", as a "nation that accepts differences" which makes the UK safer.
He said "Our approach to Muslims is no different because these attacks purport to be committed in the name of Islam. We don't stigmatise the millions of British Muslims whose values and faith completely reject the terrorists' litany of hate".
Hogan-Howe added that strict UK gun laws would make it tough for terrorists to get the weapons needed to commit an attack on the scale of those seen in Paris.