JK Rowling thanks Harry Potter fans as 'Cursed Child' script released
Comments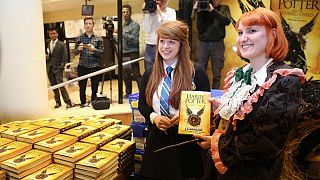 Harry Potter fans have been waiting nine years for this moment and it seems they were as keen as ever to snap up the next installment in the wizarding saga.
Around the UK, hundreds of bookshops opened their doors at midnight to welcome queues of people wishing to get their hands on the script of the stage show 'Harry Potter and the Cursed Child.'
Thanks to all our brilliant customers who queued patiently for #harrypotter#cursedchild - lovely to see you out buying books at midnight!

— Totnes Bookshop (@totnesbookshop) July 31, 2016
It received a number of five-star reviews in the run-up to the release.
Previews have been running since June. At the play's gala opening hours before the script went on sale, author of the books, JK Rowling, thanked fans for not giving away spoilers ahead of its release.
Many of you have the #HPScriptBook in your hands. How are you feeling right now? #CursedChildpic.twitter.com/hoWobj5oKZ

— Pottermore (@pottermore) July 31, 2016
The Cursed Child is set 19 years on from the Deathly Hallows – the final book in the award-winning series. Harry, Hermione, Ron and the rest are adults, whose own children are heading off to school.
Rowling and Jack Thorne wrote the play, which is being billed as the eighth book in the fantasy series. Split into two parts, it stretches over five hours.