Policeman shot dead as Armenia hostage siege escalates
Comments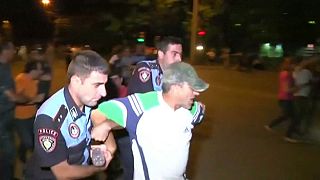 An Armenian policeman was killed on Saturday as chaos gripping Yerevan spirals increasingly out of control.
Authorities say the officer was sitting in a parked car when he was shot by a sniper inside a police station at the centre of a hostage siege. The building was seized by an armed group two weeks ago.
The killing came after security forces gave the gunmen an ultimatum to lay down their arms.
The armed men had already released hostages but are reportedly now holding members of a medical team sent in to treat the injured.
On Friday night, security forces clashed with supporters of the group in the capital. Dozens of people were injured and arrested.
The gunmen are demanding the release of jailed opposition leader Jirair Sefilian as well as President Serge Sarkisian's resignation.
Sefilian is accused by the ex-Soviet state's authorities of plotting civil unrest. He was jailed in June over allegations of illegally possessing weapons.
A former military commander, Sefilian has accused Armenian leader Sarksyan of mishandling a long-running conflict between Armenian-backed separatists in the Nagorno-Karabakh region of Azerbaijan and Azeri forces.
A Moscow-brokered ceasefire halted four days of violence in the South Caucasus region in April, the worst flare-up in years. But sporadic shooting persists at night and some deaths have been reported.
In a statement, the European Union judged the situation in Yerevan to be "very worrying".
French news agency AFP reported that more than 5,000 opposition supporters had again gathered in the centre of Yerevan on Saturday night to support the holed-up gunmen and demand the president step down.
Human Rights Watch are among those criticising police tactics.
Despite yesterday's vicious police attack thousands stroll in protest in #Armenia's capital #Yerevanpic.twitter.com/Tz7WgytMSt

— Giorgi Gogia (@Giorgi_Gogia) 30 juillet 2016