Kerry and Abbas in Paris talks on Middle East peace
Comments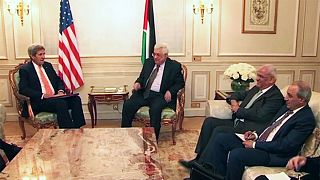 US Secretary of State John Kerry met Palestinian President Mahmoud Abbas in Paris on Saturday to discuss efforts to move toward a two-state solution to the Israel-Palestinian conflict.
The pair were hosted by French Foreign Minister Jean-Marc Ayrault.
Last month France held an international conference to revive the quest for a deal, after US efforts
to broker a two-state solution collapsed in 2014.
Constructive mtg with Palestinian Authority President Abbas. U.S. remains deeply committed to two-state solution. pic.twitter.com/PPclxC23hA

— John Kerry (@JohnKerry) 30 juillet 2016
Palestinians have welcomed recent French efforts to revive the peace process but Israel has warned that only direct talks between the old foes can bring peace.
The Palestinians say Israeli settlement expansion denies them a viable state they seek in the occupied West Bank, the Gaza Strip and a capital in Arab East Jerusalem.
Last week, the United States said it was deeply concerned about Israel's reported plans to build an additional 323 units in settlements in East Jerusalem on top of 770 units previously announced in the settlement of Gilo, the US State Department said.
Such action by Israel "continues this pattern of provocative and counterproductive action," State Department spokesman John Kirby said in a statement on Wednesday.
Kirby called the settlement activity "corrosive to the cause of peace".
Israel wants tighter security measures from the Palestinians and a crackdown on militants who have attacked or threaten the safety of Israeli citizens.