MH370: relatives call for more to be done as authorities say search could be suspended
Comments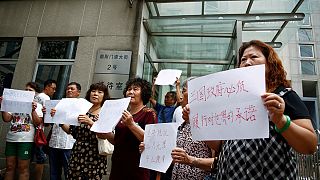 Over two years after Malaysia Airlines flight MH370 mysteriously disappeared, the wounds are still raw.
It is believed to have crashed over the Indian Ocean during a flight from Kuala Lumpur to Beijing in March 2014. 239 people were on board.
Relatives of some of the plane's Chinese passengers have gathered in the capital to contest a decision to possibly suspend the search.
A group of around 30 next-of-kin have denounced the choice as irresponsible. They say they have only been given meetings with low-level officials and have not been told anything useful.
Authorities carrying out the investigation say further steps will be considered if new information on the specific location of the plane comes to light.
Several pieces of wreckage have washed up on beaches in Africa, including on Reunion island, where debris confirmed to have come from the plane was found exactly a year ago (July 29, 2015).
However there has been no sign of the main wreckage.