Turkey: two senior generals resign as post-coup crackdown deepens
Comments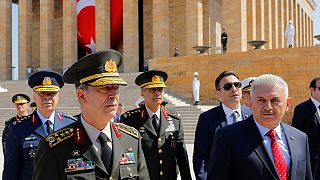 In Turkey two senior generals have resigned, as the prime minister prepared to meet military commanders for a major overhaul the armed forces in the wake of a failed coup.
According to CNN Turk, the generals Kamil Basoglu and Ihsan Uyar were high-ranking members of the land forces. It is not immediately clear why they resigned.
Their resignations come one day after the mass dismissal of military personnel. Some 1,700 were dismissed for their role in the coup, including 149 generals and admirals.
At the meeting of the Supreme Military Council later on Thursday (28.7.16) lower-ranking officers are expected to fill the gaps in the top tier.
Ahmet Kasim Han, Political Scientist at Kadir Has University said there will be 'very solid clues' about 'who the commanders will be' and what the new army will look like at the end of the meeting.
The military says only a fraction of its forces took part in the coup.
The government's crackdown on suspected supporters of Fethullah Gulen deepened on Thursday with the dismissal of 88 from the foreign ministry.
Ankara says the US-based Muslim cleric, who they believe masterminded the coup, could flee to Australia, Mexico, Canada, South Africa or Egypt. Cairo says it has not received a request for political asylum, but said it would study the request if it was received. Gulen denies the charges of being behind the July 15-16 putsch.