Slain French priest remembered in his Normandy town
Comments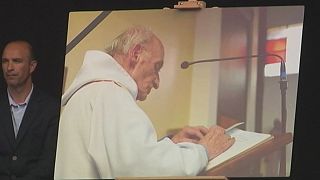 Several thousand people gathered on Thursday in Saint-Etienne-du-Rouvray, in Normandy, to pay tribute to Jacques Hamel, the priest murdered by Islamist militants this week.
Several religious leaders and political figures attended the ceremony, a day after a larger one held in Notre Dame Cathedral in Paris.
Also attending was Sister Danielle, the nun who managed to sound the alarm when the two knifemen entered the church, taking the priest and five other people hostage.
The assailants slit the throat of the elderly cleric and also seriously wounded a parishioner but were shot dead by police before making more victims.
Saint-Etienne-du-Rouvray a rendu hommage au père Jacques Hamel https://t.co/mTsgMEoSgt#JDDpic.twitter.com/7H48A3kY3X

— Le

JDD

(@leJDD) July 28, 2016
"The Intense emotion brought by this ignominious act won't dry out, neither here, in Saint-Etienne du Rouvray, nor elsewhere," said Hubert Wulfranc, the mayor of Saint-Étienne-du-Rouvray.
One woman said the ceremony made her feel much better: "It's a recognition of what he was, of what we lost."
Another one said: "French people are strong. I believe in France, in Muslims, catholics and Jews."
Slain priest Father Jacques Hamel was known for his closeness to parishioners and his ability to cheer them up https://t.co/e0pJSHnhgD

— Wall Street Journal (@WSJ) July 27, 2016
'A good man': slain French priest Jacques Hamel https://t.co/mL3MDP7Nmbpic.twitter.com/Z8SvO2YAvE

—

AFP

news agency (@AFP) July 27, 2016
Those who knew Father Jacques Hamel described him as a dedicated and courageous man who had pledged to serve his parish until his last breath.
Tuesday's attack, which ISIL claimed, came less than two weeks after the Bastille Day church attack that killed 84 people and wounded hundreds.