Pedro Pablo Kuczynski sworn in as Peru's new president
Comments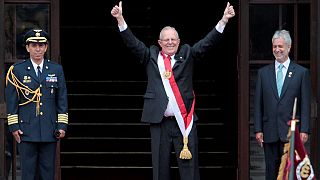 Pedro Pablo Kuczynski has been sworn in as Peru's new president, kicking off a five-year term.
Some 80 delegations from around the world were expected to be in the country for the inauguration.
The 77-year-old centre-right economist promises to address poverty and inequality in Peru.
Kuczynski has touted a platform of tax cuts and infrastructure investment to boost growth.
He was sworn in by the new president of Congress, Luz Salgado, a member of the right-wing populist party, headed by Kuczynski's defeated run-off rival Keiko Fujimori, that now holds 56 percent of seats in Congress.
Happy #IndependenceDay Peru!
Our greetings to President Pedro Pablo Kuczynski ppkamigo</a> today on his inauguration <a href="https://t.co/NHcpgBeXj5">pic.twitter.com/NHcpgBeXj5</a></p>&mdash; OAS (OAS_official) 28 July 2016
By 2021, Kuczynski said Peru would be a member of the developed-nation club, the Organisation for Economic Co-operation and Development (OECD).
He reiterated plans to cut red tape, holding back private investments and lower the Value Added Tax rate, to encourage informal businesses to pay taxes and provide benefits to workers.
#3Novices : Pedro Pablo Kuczynski: Peru's new president faces plethora of problems https://t.co/1MD2dA1eSC At the age of 77, former World …

— 3NovicesEurope (@3NovicesEU) 28 July 2016