Despres steers Peugeot to victory in the 2016 edition of the Silk Way Rally
Comments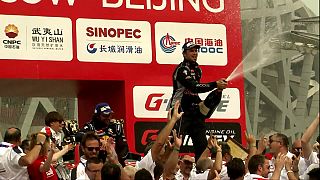 The champagne corks were popping on Sunday in Beijing as Cyril Despres was officially named winner of this year's edition of the Silk Way Rally.
The awards and closing ceremony took place just in front of the Olympic 'Birds Nest' Stadium in the Chinese capital.
It was Frenchman Despres first rally raid triumph on four wheels having previously won five Dakar Rally titles in the bike category.
After two weeks and more than 10,000kms of action from Moscow to Beijing, Despres steered his Peugeot to victory 25 minutes and 51 seconds clear of Saudi Arabia's Yazeed Al Rajhi who competed for Mini.
Russian Vladimir Vasilyev was third while England's Harry Hunt and German co-pilot Andreas Schulz came home fourth overall.
Russia were celebrated one gold after Airat Mardeev took top honours in the trucks category.
He was to finished the gruelling event 15 minutes and 28 seconds clear of compatriot Dmitry Sotnikov – both men, of course driving the formidable vehicles Kamaz.
Winner of six stages, the 'Flying Dutchman' Martin Van Den Brink piled the pressure on the Russian's but the Renault man eventually had to settle for the third step of the Trucks podium.