Hot mess: Earth on track for hottest year on record
Comments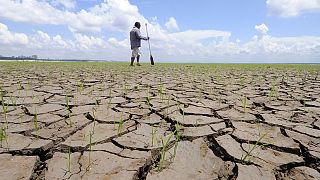 It's a record that's been broken every month of this year, but it's bad news for the earth. The world is on track for its hottest year on record, something which has climate scientists ringing alarm bells.
On climate change: It's not something we can keep postponing.

Greenpeace Chief Scientist
The figures come from NASA's first ever mid-year heat analysis, released because the figures were so excessive. The UN's World Meteorological Organization Director of Climate Research David Carlson warned "we don't have as much time as we thought. If we got this much surprise this year, how many more surprises are ahead of us?"
Last year, the Paris Agreement saw 200 governments agree to limiting global warming to below 2 degrees Celsius. The UN website indicates:
"Of these, 19 States have also deposited their instruments of ratification, acceptance or approval accounting in total for 0.18 % of the total global greenhouse gas emissions."
Scientists say we must move from words to acts.
"This report gives renewed emphasis for the importance of international action in tackling climate change," Greenpeace Chief Scientist, Dr Doug Parr said. "It's not something we can keep postponing or putting off until the economy is in a better state or whatever. It really means we need to go now. We need to ratify Paris. We need to do the things that need to be done on the back of it."
Temperatures in the northern hemisphere, early and rapid arctic sea ice melt, as well as 'new highs' in heat-trapping carbon dioxide levels are evidence that climate change is speeding up, according to the UN agency.
A failure to act, it warns, could mean the frequency and intensity of weather events like heatwaves and floods could worsen dramatically.