Turkey's parliament votes 3-to-1 to back Erdogan's state of emergency
Comments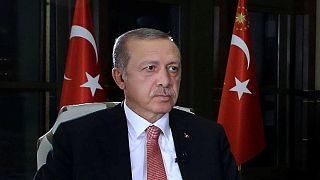 The Turkish parliament has voted by three-to-one to approve the state of emergency announced by President Erdogan after last week's failed coup attempt.
The state of emergency is not martial law

Turkish Justice Minister
A total of 346 MPs voted in favour, while 115 opposed the new measures.
The president gets sweeping new powers to bypass parliament. He and his cabinet can bypass parliament by enacting new laws and limiting or suspending rights and freedoms.
Like France, Turkey is suspending the European Convention on Human Rights.
"The state of emergency won't affect activities such as those that are economic or social. The state of emergency is not martial law," said the Minister of Justice Bekir Bozdağ.
"As long as we stand with the people, tanks will be of no use" https://t.co/vxU3GWrLEkpic.twitter.com/fo8733wtML

— Turkish Presidency (@trpresidency) July 21, 2016
The pro-Kurdish HDP voted against the new measures; the main opposition Republican People's Party (CHP) was split and allowed a free vote.
One CHP member explained why he and others were not in favour.
"As we know, a state of emergency limits democracy and democratic means. I want to repeat again that we did not want to be in a state of emergency yesterday and we will not support it today," Mehmet Tum said.
In parliament, government officials met with the former president Abdullah Gül, opposition CHP Leader Kemal Kılıçdaroğlu and pro-Kurdish party HDP MPs.
They displayed unity against the failed coup – but the same unity does not extend to the state of emergency.
Many Turks have rallied round the president in the wake of the bloody coup attempt that some observers say could have led to civil war had it succeeded.
In the mountainous region of Armutalan in Marmaris police were seen searching for soldiers suspected of involvement.
Tens of thousands of people have been suspended from their jobs, or detained or placed under investigation.
In 1980 a military coup was followed by martial law, and the 1990s saw a Kurdish insurgency amid a state of emergency in the largely Kurdish southeast.
Amid the current turmoil and climate of fear, some fear a return to the dark days of the authoritarian regimes of the past.
#Turkey: State of emergency must not be used to clamp down on human rights https://t.co/zaaOBua5T8#TurkeyPurgepic.twitter.com/XoR2fNo55C

— Fotis Filippou (@Fotis_Filippou) July 21, 2016