Court upholds IAAF ban on Russian athletes from competing in Rio
Comments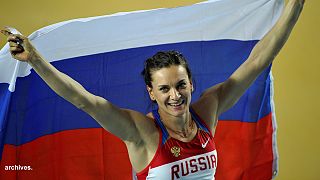 The ban on Russian track and field athletes taking part in the Rio Olympics is set to stand after the Court of Arbitration for Sport threw out an appeal by 68 Russian athletes.
The appeal was made on their behalf by the Russian Olympic Committee.
Cas upheld the decision taken by the IAAF, athletics' governing body, after repeated revelations about state sponsored doping in Russia.
Matthieu Reeb is the Secretary General of the Court of Arbitration for Sport:"In the opinion of CAS, because the National Federation – Russia's athletics federation – is suspended, normally these athletes should not compete, in Rio. But again, IOC was not a party to this arbitration, so our decision is not binding on the IOC."
IAAF statement in response to CAS award: https://t.co/IDPKefnBOg

—

IAAF

(@iaaforg) July 21, 2016
Russia must wait until next week to discover if its entire Olympic team is to omitted from the Rio games.
The Kremlin said it deeply regrets the Cas decision.
Russia's sports minister, Vitaly Mutko said:"In general, unfortunately, we have to acknowledge that the Court of Arbitration for Sport made the decision. I think this decision, of course, violates the rights of clean and honest sportspeople and of course creates a precedent of collective responsibility."
The IAAF said the verdict "creates a level playing field for athletes."
Olympic sprint champion Usain Bolt agrees:"If you're cheating then I always feel it's a good message to show that, 'listen, if you cheat or you go against the rules then we're going to take serious action'. This will scare a lot of people or send a strong message that the sport is serious and we want to clean the sport up, so I definitely think so."
How does the International Olympic Committee solve a problem like Russian doping? https://t.co/ydEYfVdCLqpic.twitter.com/eNTbQCeIZl

— The Verge (@verge) July 19, 2016
A number of anti-doping organisations have urged the IOC to ban the Russian team en masse to uphold the legitimacy of Olympic competition.