Turkey's post-coup purge widens to schools and universities
Comments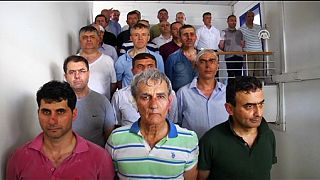 Turkey has stepped up its purge following Friday's coup attempt, now targeting universities and schools.
On Wednesday morning broadcaster TRT reported that the Turkish Higher Board of Education had "banned all academics" from travelling abroad.
The previous day some 15,000 education staff were suspended and deans across the country were ordered to step down.
Ankara has vowed to root out those who support Fethullah Gulen, a US-based cleric it blames for the failed military takeover.
After President Recep Tayyip Erdogan spoke to his US counterpart over the phone, White House spokesman Josh Earnest said the United States had offered its assistance but urged Turkey to show restraint.
"The president's expectation is that people from Turkey want to see a full investigation and accountability for those who are complicit," Earnest told reporters.
More than 50,000 soldiers, police, judges, civil servants and teachers have been suspended or detained since last weekend's failed coup.
President Recep Tayyip Erdogan has also called for parliament to consider applying the death penalty for the plotters.
Some Western leaders have voiced concern he is using the opportunity to firm his grip on power.