Turkey hunts for coup plotters but arrested ex-air force chief denies being ringleader
Comments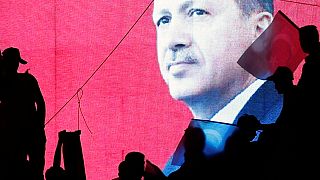 Former Turkish air force chief Akin Ozturk has denied being being one of the the orchestrators behind Friday's failed coup attempt. Gen Ozturk and 26 senior officers were brought before a tribunal on Monday and charged with treason. But in statement to the court Ozturk said he had not led the coup.
Crackdown
Turkish President Recep Tayyip Erdogan has widened his crackdown on suspects thought to be supporters of the coup. A total of 20,000 people have been suspended or detained in just three days.
'Heavy Purges' Will Weaken Turkish Military and Ankara#TurkeyPurge#Turkeyhttps://t.co/wAWwAQEa79

— Politics Today (@PoliticsToday_) July 18, 2016
Included in the figures are 8,000 police officers, some based in either the capital Ankara or the biggest city Istanbul, have been removed from their posts.
About 1,500 finance ministry officials have also been suspended and 30 governors and more than 50 high-ranking civil servants have been dismissed.
There's been a suspension of annual leave for more than 3 million civil servants, and a further 3,000 judges and prosecutors have been suspended.
Extradition calls
Washington is so far being circumspect over calls by the Turkish leader to extradite the man he accuses of being the coup's mastermind, the US based cleric Fethullah Gulen. The Americans are waiting for evidence of his involvement.
Erdogan has long accused Gulen of trying to create a "parallel state" within the courts, police, armed forces and media. Gulen, in turn, has denied involvement in the coup and said it may have been staged, casting the coup an excuse for Erdogan to forge ahead with his purge of the cleric's supporters from state institutions.