Donald Trump arrives in Cleveland to be 'crowned' as Republican presidential candidate
Comments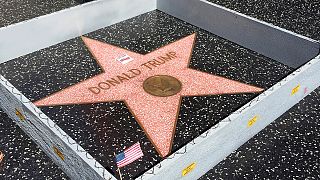 Donald Trump arrived in Cleveland in style on Wednesday using his own helicopter to touch base ahead of accepting the Republican presidential nomination on Thursday night.
On Tuesday (July 19) the billionaire finally secured the support of the majority of Republican delegates to lead the race for the White House in November's election.
"This is really an honour and we're going to win Ohio, right? Come here Mike (Pence). We're going to win Ohio and we're going to win it all. We're going to make America great again," said Trump.
So far the four day convention has been a mixture of razzmatazz and damage limitation over a plagiarism gaffe.
An employee of the Trump Organisation has now taken responsibility for writing Melania Trump's speech apologising for mistakenly inserting passages that resembled a speech given by first lady Michelle Obama.
"I did not check Mrs. Obama's speeches. This was my mistake and I feel terrible for the chaos I have caused Melania and the Trumps, as well as to Mrs. Obama. No harm was meant," Meredith McIver said in a statement.
She said Melania Trump had read passages from Michelle Obama's speech to the 2008 Democratic National Convention over the phone to her as examples. McIver then wrote them down and later included some of the phrasing in a draft that became Melania Trump's speech on Monday night.
Statement pushed out by Trump campaign from Meredith McIver taking responsibility for Melania speech controversy: pic.twitter.com/DNDoy491Q7

— Ali Vitali (@alivitali) July 20, 2016
Accusations of plagiarism plagued the Trump campaign the moment the similarities emerged.
And highlighting one of Trump's pledges to build a wall to keep Mexican immigrants out of the US, a street artist in Hollywood, has erected a miniature barrier around the edge of Trump's star on the Hollywood Walk of Fame – complete with "Keep Out" signs in English and Spanish.
Miniature wall appears around Trump's Hollywood star – https://t.co/tlmfa06Y8Epic.twitter.com/qnzINT0cvq

—

KOMO

News (@komonews) July 20, 2016