South Korea warns of 'growing' security threat after North launches more missiles
Comments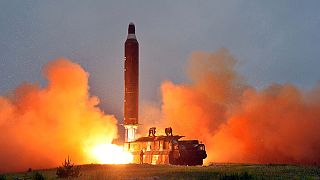 North Korea has fired three ballistic missiles into the sea off its east coast, according to South Korea's military.
It's the latest in a series of such moves by the isolated communist country which are seen as provocative.
Analysts believe this was a political show of force on the part of Pyongyang's leadership rather than a technical experiment to improve the country's missile capacity.
The missiles were fired a distance of hundreds of kilometres, far enough to threaten the whole of the South.
In parliament in Seoul the prime minister issued this warning.
"North Korea not only conducted its nuclear test but also has been continuously launching ballistic missiles (this year), which was a rare phenomenon in the past. The threat to our national security has grown very quickly in a short period of time," Hwang Kyo-Ahn said.
The launches came days after South Korea and the United States announced a final decision to deploy an anti-missile system in the South to counter threats from the North, prompting Pyongyang to threaten a "physical response".