Republican Convention Day 1: security, Melania and marines
Comments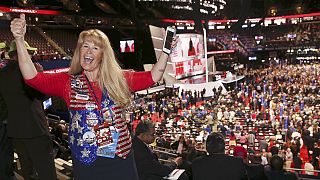 The Republican National Convention has kicked off in Cleveland – the theme on Day 1 'make America safe again', a play on presumptive nominee Donald Trump's slogan to make America great again.
The Grand Old Party hopes to sell the brash media mogul as the man to bring law and order back to the US, in the wake of deadly shootings and threats from Islamist militants.
Security at home and abroad will be put under the spotlight, with speakers aiming to highlight Democratic rival Hillary Clinton's perceived failings over the attack on the US embassy in Benghazi in 2012.
The list of speakers include US marines, Homeland Security experts, and mothers who lost children in car accidents involving undocumented immigrants. Though the most hotly anticipated speech will come from Trump's partner Melania.
Notable absences include the Bush family, as well as previous presidential candidates John McCain and Mitt Romney.
Trump's candidacy is not only proving controversial within his own party. It has its own protest movement – dump the Trump activists gathered outside the convention to make their point known.
Comedian Stephen Colbert made waves as he hijacked the stage mocking Trump's candidacy saying, "I know I'm not supposed to be here but neither is Trump", before being escorted off by security.