USA: toy guns banned, real guns OK for Republican convention in Cleveland
Comments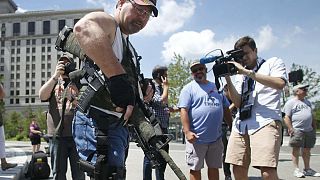 Water guns, tennis balls, umbrellas with metal tips. Just a few of the apparently innocuous items banned from the event zone of the Republican convention in Cleveland, Ohio this week… You can, however, bring your gun.
Ohio's "open carry" gun laws mean that firearm owners are allowed to wear their weapons around the convention, excluding a small secure zone within the event area.
Other banned objects include:
canned goods
sleeping bags
rope longer than 6 feet
drones
containers of bodily fluids
light bulbs
locks
ladders
sabres
Map of the event zone where items are prohibited and the security zones where guns are also banned
Gun law in Ohio
Ohio, a conservative state, has very few restrictions on gun ownership. No permit, registration or license is required to purchase rifles, shotguns or handguns – as long as the person is open carrying. A license is required for carrying concealed weapons.
Reaction
The president of Cleveland's police union, Stephen Loomis, had requested a state of emergency temporary suspension of the open carry law but it was refused by Republican Governor John Kasich, who denied having the power to do so.
Loomis has since urged people to leave their guns at home: "I don't care what the legal precedent is, I feel strongly that leadership needs to stand up and defend these police officers," Stephen Loomis said, referring to the recent fatal shootings of police officers in Baton Rouge and Dallas.
The leader of the New Black Panthers Party (NBPP), a group which intends to demonstrate during the event, has said they will open carry, as allowed by law: "If it is an open state to carry, we will exercise our second amendment rights", said Hashim Nzinga, chairman of the organisation. "There are other groups threatening to be there that are threatening to do harm to us."
A petition has been set up on Change.org to support open carry within all zones of the convention, it had been signed by almost 56,000 people at the time of writing.
However, not all open carry proponents agree. Bill Morris, a 50-year-old police officer and Trump supporter, usually defends the open carry law but thinks it would be unwise in this case: "As a police officer I am very much in favour of the Second Amendment and the right to bear arms, but in a situation like this I don't see what good it does to open carry."
The Republican convention is a National Special Security Event (NSSE) which means that the Secret Service and other federal agencies will work on safety and security.