Turkey vows to root out supporters of failed coup attempt
Comments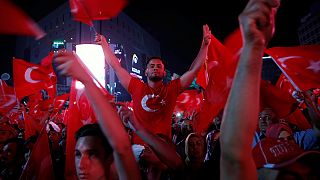 President calls for Turks to stay on streets until Friday
Number arrested in army and judiciary hits 6,000
France calls for Turkey act according to rule of law
Turks continue to fill the streets of Ankara and other major cities with leaders urging them to resist any possible further moves to topple the government.
Thousands are responding in a huge show of people power which began against Friday night's coup attempt.
Until we finish them all, until we root them out, we will have no sleep

Turkish Prime Minister
Failed coup shows how out of touch armed forces are with social changes in Turkish society, analysts say https://t.co/fYFcptj7RM

— Wall Street Journal (@WSJ) July 17, 2016
Meanwhile the crack down on the army and judiciary is intensifying. President Recep Tayyip Erdogan and the government have accused the US -based Muslim cleric Fethullah Gulen, a former ally whom Erdogan, of trying to create a "parallel structure" within the courts, police, armed forces and media, and of orchestrating the coup.
The cleric has denied playing any role in the attempted coup, which he called an affront to democracy, and on Sunday told reporters he believed Erdogan had staged the putsch.
The man accused of plotting Turkey's failed coup: https://t.co/yFcdlv82Ht

— Wall Street Journal (@WSJ) July 18, 2016
On Sunday night Turkey's Prime Minister Binali Yildirim lead a rallying cry in the centre of Ankara:
"During the day, we will go to our jobs," he told thousands of supporters. " We will do our work because life goes on. But when the evening comes, after leaving our jobs, are we gonna continue this vigil? Until we finish them all, until we root them out, we will have no sleep."
With the government claiming to be in full control an estimated 6,000 people have been arrested in the last 48 hours.
Suspected plotters have been taken away as crowds call for the death penalty which Turkey outlawed in 2004 as part of its efforts to join the European Union.
Among those detained is the former air force chief Akin Ozturk who has been accused of being one of the main orchestrators of the coup.
Sunday also saw the first of the funerals for some of the 290 people killed in the violence. The victims include President Recep Tayyip Erdogan's campaign manager and his 16-year-old son. Both were killed when rebel soldiers opened fire on protesters at the Bosphorus bridge in Istanbul on Friday night.
With expectations growing of any even heavier clampdown on dissent European politicians have warned Erdogan not to disregard the rule of law.
"(The coup attempt) is not a blank cheque for Mr Erdogan. There cannot be purges, the rule of law must work," said French Foreign Minister Jean-Marc Ayrault.