EU-US warn Turkey over coup plotter purge
Comments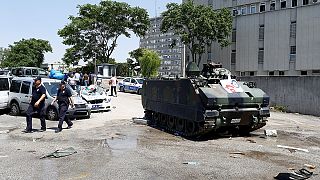 In Turkey, up to 8000 police officers have been removed from their posts on suspicion of being linked to Friday's failed coup.
It adds to the thousands of armed forces who were rounded up on Sunday, after President Erdogan promised those responsible would pay a heavy price.
Another sign of continuing tensions, a man who opened fire outside a courthouse where top generals were being questioned was fatally shot.
Now more than 290 people have been killed and 1,400 wounded after Friday's violence, and raids continue on suspected coup plotters with special forces detaining four high-ranking generals at the Turkish Air Force Academy.
The man accused by Ankara of being behind the coup, Fethullah Gülen believes there was another reason for the unrest.
"The bigger picture in this situation is clearly giving signals of a staged or hoax coup. First of all, the important political leaders who are supposed to be taken into custody in the military coup, they were not touched. They were not pursued. Empty buildings were bombed, people fired on innocent civilians, tanks were positioned in places and did nothing. When you look at this big picture, this is not the picture of an authentic coup".
The US-based cleric claims that Friday's events could be part of a larger plan to expand the President's hold on power.
Ankara is urging Washington to extradite the US-based cleric. The US has responded by calling for evidence of his involvement while calling on Turkey to respect the rule of law in its dealings with suspected coup plotters.
In light of the mass detentions, Europe and the US have expressed concern that Turkey is abandoning the rule of law. They are urging Ankara not to take excessive measures when bringing the coup plotters to justice.