Turkey Purge: Thousands of suspects rounded-up
Comments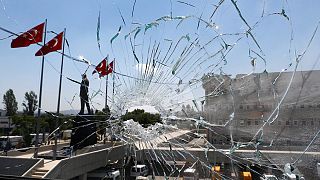 A clean-up after the coup, in more senses than one. In the first hours after the attempted overthrow President Erdogan announced the guilty would face severe punishment.
Taking to the streets in response to his rallying call, Erdogan supporters swarmed on the rebels, stopping them in their tracks and, reportedly in some cases, issuing summary justice.
The unusually swift response
Very swiftly the purge began, with thousands of suspects rounded-up. That the intelligence services could act so quickly and decisively has raised questions about why they were not able to anticipate the coup in the first place.
Turkey government seemed to have list of arrests prepared: EU's Hahn https://t.co/gmcq50Uhx4pic.twitter.com/DQSV4pegKM

— Reuters Top News (@Reuters) July 18, 2016
The ultimate penalty
"My brothers, as the state and the government we hear your demand. (death penalty) We cannot ignore this demand. In democracies, whatever people say, it is done."
Turkish officials arrest former Air Chief General Akin Ozturk – retired in 2015 – said to be the leader of the coup pic.twitter.com/WftM3TBLmw

— omar r quraishi (@omar_quraishi) July 18, 2016
It seems if the people want the heads of the coup leaders, they will have them. Among those possibly facing a grim fate is Akin Ozturk , former head of the air force. He's accused of being the plotter-in-chief.
High-ranking suspects
Other top-ranking suspects include the Adem Huduti, commander of the second army, Eral Ozturk, the commander of the third army. Bekir Koçak, Mehmet Akyürek, Avni Angun and Ali Yazici, the president's closest military advisor.
Also caught in the swoop, the commander of Incirlik military base. In total, 70 of the country's 350 generals are under arrested.
Vital military assets at stake
It's a show of force whose scale and swiftness sends out a clear signal, but one that is troubling some NATO allies , including the US, for whom the Incirlik is a vital military asset.
At the same time Erdogan can't afford to weaken the army. The country faces internal threats from Kurdish extremists and from ISIL in Iraq and Syria.
The purge is not restricted to the military, with almost 3,000 judges and prosecutors arrested and around 9,000 interior ministry staff fired.