Nice attack: what we know about the man behind the lorry massacre
Comments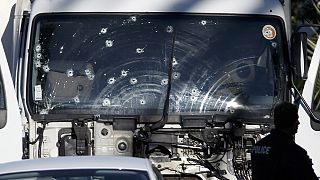 So what do we know about the person who carried out the attack?
He was named by Paris Prosecutor François Molins as 31-year-old Mohamed Lahouaiej Bouhlel, identified first through a driving licence found at the scene of the crime.
Molins said he had been positively identified by fingerprints. He was a French resident born in Tunisia.
Police found a 7.65 millimetre handgun in the lorry along with fake weapons and a grenade.
The fact that he had rented the lorry a few days ago suggests the attack may have been premeditated.
"He was frightening"
A picture is emerging of a man who lived in Nice and was married – but estranged from his wife – with three children.
Neighbours described him as good-looking but a distressed and unstable man who was, at times, aggressive. They say he never responded when they said hello.
"I would say he was someone who was pleasing to women," said neighbour Hanan, standing in the lobby of the apartment building where Bouhlel lived.
"But he was frightening. He didn't have a frightening face, but … a look. He would stare at the children a lot," he added.
Criminal conviction but no known terrorist links
He had held a licence to drive a truck for a year and worked as a delivery driver.
However, a month ago he had an accident where he fell asleep at the wheel, for which he was arrested.
Bouhlel was not on a watch list of French intelligence services as a suspected militant.
He was convicted for the first time in March this year, French Justice Minister Jean-Jacques Urvoas said.
"There was an altercation between him and another driver and he hurled a wooden pallet at the man," Urvoas told reporters.
As it was his first conviction, Bouhlel was given a suspended sentence and had to contact police once a week, which he did, Urvoas added.
Prosecutor Molins said police have searched his flat and found documents and electronic material.
Bouhlel's former wife, Molins said, had been taken into custody for questioning.
More in this report by French television channel BFMTV.