Nearly 40 held in Romania slavery probe as new evidence emerges
Comments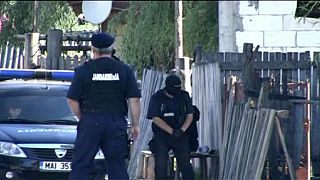 Authorities in Romania have formally detained 38 people suspected of running a slavery ring.
They were among some 90 suspects said to have been part of an extended Roma family who exploited scores of poor and vulnerable people.
The victims, men and boys, are said to have been kidnapped, chained up, and forced to work, beg, look after animals or fight each other.
According to some locals, the exploitation of the "slaves" was done in plain sight. Prosecutors are said to be considering claims that people were sold to other families for small sums of money to do hard physical labour.
Following the raids in the remote rural village of Gamacesti in the south of the country there was uproar among Roma residents angry about the accusations, while the mayor denied he was involved.